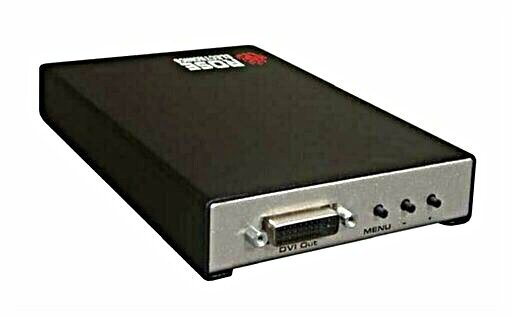 VGA - DVI
Convert an analog signal to digital for PC or HDTV
DVI
or projectors.
Compatible with the
DVI
DDWG standard.
Media entry
VGA
resolutions up to 1280 x 1024 @ 75 Hz.
Supports
DVI
resolutions up to 1920 x 1200 (often through a choice of menu)
Features and benefits
- Converts analog signals to digital
DVI
format.
- To manage resolutions of up to 1920 x 1200 in entry screen.
- Resolution up to 2048 x 1080 output.
- Supports HDTV resolutions up to 1080 p (input and output).
- Often compatible with DDWG.
These adapters often have a menu for adjusting brightness, contrast, color RGB display and the H position / V
In general, the output format is selectable using the screen of the system.
The output resolution can be selected according to the features of the monitor output.
The benefits of the
VGA
/DVI converter.
The
VGA
to
DVI
converter connects the graphics cards traditional analog video (VGA) to
DVI
compatible digital monitors.
It allows users to connect laptops or PC equipped with a plug
VGA
video connection to
DVI
video screens.
These converters also support video sources such as
DVD
player and decoders.
Using the settings you can select the output (digital or analog)
DVI
or
DVI
D mode.
As a general rule, the output resolution can also be selected to provide the resolution needed to the display device.
The setting of the picture menu allows to adjust the contrast, brightness, color and saturation of red, green and blue levels.