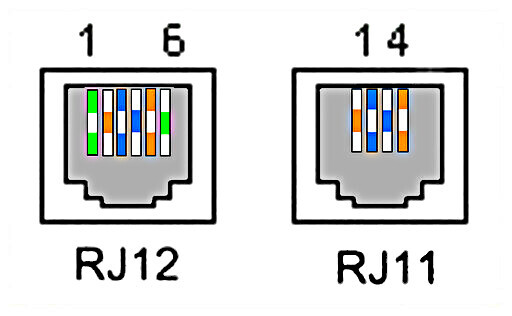 RJ12
RJ12 - Registered Jack 12 - is a standard of the same family as
RJ11
, RJ13 and RJ14. The same six-slot connector is used.
RJ12 has 3 pairs of copper strands allowing the exchange of information on 3 lines, the other standards allow exchanges only on one or two lines.
RJ12 allows the connectivity of telephone lines in companies while in general
RJ11
is aimed at individuals.
The terms Tip and Ring are used to refer to the beginnings of telephony when long audio sockets connected the customer's line. The translation is 'point' and 'ring', they correspond to the 2 conductors needed for the operation of a line.
The voltage in a subscriber is usually 48V between drivers Ring And Tip With Tip near the mass and Ring -48 V.
Copper conductors therefore go by 2 in all RJ sockets and have distinct colors.
See the chart.