RJ45
RJ45 - Registered Jack - is the wired standard that allows the network connection for example to the Internet via a box. This type of cable has 8 pins of electrical connections.
This cable is also called cable ETHERNET its connector is called 8P8C connector (8 positions and 8 electrical contacts).
This connector is physically compatible with the connector
RJ11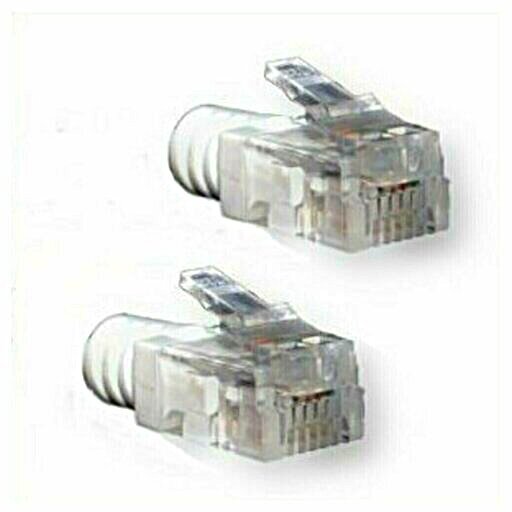 RJ11
RJ11 - Registered Jack 11 - is used for the landline telephone. It is an international standard that is used to connect the landline telephone to the Telecommunications network.
RJ11 uses a 6-slot connector. In it RJ11 has 6 slots (positions) and two conductors, the standard is written 6P2C. The information transmitted on the line can be digital (DSL) or analog. The telephone cable that arrives at the subscriber h
if an adapter is used.
On computer cabling RJ45 in 10/100 Mbit/s, only 4 pins 1-2 and 3-6 are used to transmit information.
In 1000 Mbps (1Gbps) of transmission, the 8 pins of the socket are used.
Two wiring standards RJ45 are mainly used to wire sockets : the standard T568A and the standard T568B.
These standards are very similar : only pairs 2 (orange, white-orange) and 3 (green, white-green) change.