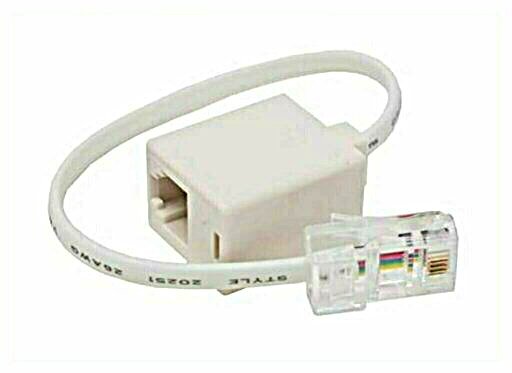 RJ11 ⇔ RJ45
This adapter consists of an
RJ45
network socket and an
RJ11
socket for the landline. These two sockets are not physically compatible but electrically.
The telephone cable that arrives at the subscriber's home is called
RJ11
, Registered Jack 11, it has 4 conductors grouped into 2 colored pairs. The socket consists of 6 physical positions and 4 electrical contacts of which only 2 are used (6P2C).
These two central contacts are used for the telephone line.
RJ45 Registered Jack 45 has 8 positions and 8 electrical contacts (8P8C), this connector is commonly used for Ethernet connections, i.e. networks, especially to connect computers to the
Internet
.
The right
RJ45
cable is used to connect a computer to a Hub or Switch. The cross-wire
RJ45
cable is usually used to connect two Hubs or two Switches or two computers.